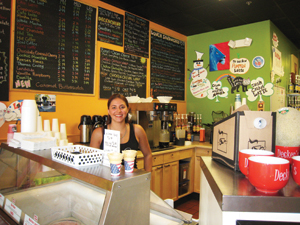 What is crowdfunding?
Crowdfunding is a way to raise money, support, and resources for local projects. There are many different types of crowdfunding.
Traditional crowdfunding
Traditional crowdfunding raises money through individual donations for a specific project or initiative. Online crowdfunding platforms like IndieGoGo or Kickstarter have been around for years and have raised billions of dollars for projects across the world. Here in Michigan, there are more localized online platforms, like Patronicity or ioby, which specialize in raising money for civic or community-based initiatives. But not all crowdfundinhg has to be online; Detroit SOUP, for example, is an in-person crowdfunding event that brings people together to raise money for Detroit-specific projects.
Crowdgranting
Crowdgranting is a combination of traditional crowdfunding and government or philanthropic grants. In crowdgranting, projects leaders collect donations through traditional crowdfunding and, if they raise a pre-determined dollar amount within a specific time limit, they receive a matching grant from a separate institution. Organizations like Michigan Radio have been using crowdgranting or challenge grants for years as a way to encourage individual donors to "double their dollar." Patronicity has a crowdgranting partnership with the Michigan Municipal League called Public Spaces, Community Places (PSCP). Through PSCP, Michigan communities with traditional downtown qualify for a matching grant up to $50,000 for projects that benefit public space.
Investment Crowdfunding
Investment crowdfunding allows people (not just big-time accredited investors) to invest in local businesses, and these backers get a financial return on their investment. Review the FAQ.
What's the Michigan Municipal League's role in crowdfunding?
The League is dedicated to making Michigan's communities better by thoughtfully innovating programs, energetically connecting ideas and people, actively serving members with resources and services, and passionately inspiring positive change for Michigan's greatest centers of potential: its communities.
Crowdfunding is a way for people to show their love for their communities and support projects and businesses in very real and tangible ways. Through this site, educational programs, and case studies, the League strives to:
Share information and spread the word about crowdfunding;
Connect people to crowdfunding platforms and projects;
Tell stories about successful campaigns and promote lessons learned from each experience.
The League offers links to certain funding websites as a convenience to its members and the public. The League has not vetted the offerings featured on these websites and encourages all interested parties to read the disclaimers on the applicable funding website, to carefully review the risk factors and other information provided in any offering materials and to obtain appropriate professional advice before investing. The League is not an SEC- or Michigan-registered broker, dealer, investment advisor, investment manager or funding portal and not give investment advice, make investment recommendations nor make any representations as to the suitability of any investment for any investor. The information on the League's websites and in other League materials does not constitute an offer, or the solicitation of an offer, to buy or sell any securities to any person.