League members filled the room, anxious to learn about how crowdfunding could benefit their communities. Summer Minnick, the League's director of policy initiatives and federal affairs, engaged the audience with an interactive activity designed to gauge their current level of knowledge on crowdfunding. With clickers in hand that would record their votes, people answered a variety of questions on their familiarity with crowdfunding and its potential impact on their community. Understandably, the majority – 46% – rated their knowledge of crowdfunding as so-so. Stay tuned for the results at the end of the session. Minnick then enlightened the audience on the basics of crowdfunding – using a small amount of money to make a big impact in a new project of business venture. Michigan's new crowdfunding law – Michigan Invest Locally Exemption – allows businesses to raise capital from accredited and non-accredited investors. "Non-accredited investors are about 93% of the population," said Minnick. "That is what's exciting about this for communities and entrepreneurs." As evidence of crowdfunding's economic value, she cited some impressive statistics. In 2014, crowdfunding added 270,000 jobs and pumped $65 billion into the U.S. economy. Michigan is at the forefront of the crowdfunding movement, which gives communities a powerful new economic development tool. This can lead to success for local entrepreneurs, local investors and the community as a whole. Minnick cited the example of Tecumseh Brewing Co., the first Michigan company to successfully raise capital under Michigan's new crowdfunding law. They were able to raise $175,000, largely from local people who knew their business and wanted see it grow and develop.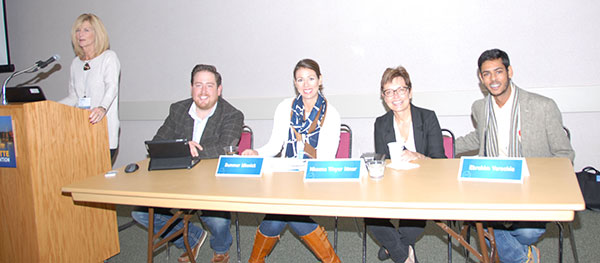 Next, Nate Scramlin, MEDC, Community Assistance Specialist, filled in the audience on MEDC's new crowdfunding initiative, Public Spaces, Community Places. In an effort to promote vibrant communities and attract talent, MEDC launched this matching dollar program to help communities with traditional downtowns create placemaking projects in public areas such as trails, alleys and public plazas. They have partnered with the League and Patronicity – a Detroit-based crowdfunding portal – to bring the value of crowdfunding to projects across the state.
Ibrahim Varachia, Patronicity co-founder, shared how his company works with Public Spaces, Community Places applicants to develop successful crowdfunding campaigns. Patronicity takes them through the important steps of identifying their project idea, establishing a funding goal, setting a timeline, and creating a unique pitch, video and reward. Varachia emphasized that setting a relatively short timeline – 30 days – creates a sense of urgency among potential donors and is generally results in more success. Marquette's Skatepark was one of the first projects to take advantage of the MEDC crowdfunding program.
Nheena Weyer Ittner, director of the Upper Peninsula Children's Museum, was active in helping the community raise about $200,000 to build the skatepark. When they needed $20,000 to add the finishing touches that would make the park an inviting gathering space for the entire community, she turned to Patronicity to help her create a successful fundraising campaign. With Patronicity's expertise, Ittner's enthusiasm, and a supportive community, the campaign did indeed reach its goal and gain the matching funds from MEDC. Now, remember how the audience rated their crowdfunding knowledge before this session began? By the end of the hour, 82 percent of the attendees rated their knowledge of crowdfunding as good or very good!
Crowdfunding: Tapping into Local Investment Power