The Public Spaces Community Places program is the most exciting initiative coming out of the State right now – helping fund local public projects – with the help of crowdfunding – that support the activation of space in communities. And five great projects are now funded through the program – with another four more currently "live." What public projects do you have in your community? The applications are rolling – so get moving on figuring out how to take advantage of this new initiative!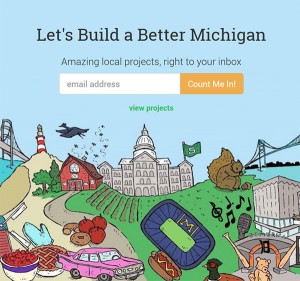 The program, which is a collaborative effort between the MEDC, the League and Patronicity,  provides for a dollar for dollar match from funds raised via crowdfunding for public space activation. This can include recreational projects, arts and culture, multimodal initiatives, etc.  The applicant (community or other organization) determines the amount needed for the raise and the match to get the project to a "completed" phase by working with Patronicity, an online crowdfunding company in Detroit. In other words….it's not for drawings or renderings only – the money has to get to projects being finished. And finished projects they are funding! Check out the awesome public projects already funded or in the process of their crowdfunding raise by looking here.

The application process is shockingly simple. There are no forms to fill out. You simply go to Patronicity.com and start building a page that would serve as your fundraising page. Once the information is uploaded, the review process begins. If projects meet the criteria, they are typically approved extremely quickly by most grant standards – we're talking days to a little over a week. Once approved, a few additional items need to be filled out on the project page before you're ready to start crowdfunding!
This is an innovative project that supports the concepts of placemaking while incorporating the civic engagement practice of crowdfunding. In our opinion, it's one of the coolest things the State is doing to help communities and we're delighted to be a part of this program – believed to be the first of it's kind in the country!
Five Public Projects Funded Through New MEDC Crowdfunding Match Program, 4 More In The Works! What's Your Project?