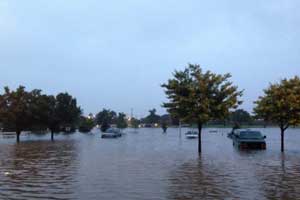 Torrential rains blew through Southeast Michigan on August 11, sending gushing water through freeways, neighborhood streets and basements.  When the skies finally cleared, cars, couches and cabinets were left bobbing in huge pools of storm water like rubber ducks in the bathtub. Thousands of people faced countless hours of clean-up and dealing with insurance adjusters, if they were fortunate enough to have insurance that would kick-in under these circumstances.
Madison Heights was among the hardest-hit communities. Approximately 3,000 homes were affected, to the tune of $28.4 million in damages. Many residents have approached the city seeking financial assistance for the hardships the storm left in its wake. To help their elderly and disabled residents who have no family to call upon for help, Madison Heights officials got creative and launched a crowdfunding campaign on gofundme.com on Aug. 20.  Their goal is to raise $15,000 to be used for reimbursement or payment for storm clean-up and replacement of damaged furnaces and hot water heaters. The City of Madison Heights will administer the funds, which will be available to residents who meet the criteria of being over 62 years of age or permanently or totally disabled.
On the first day, the site's cash counter was already near the $1,000 mark. Donors are responding not only with financial contributions, but words of encouragement like, "Best Wishes to all those in need." and "So happy to help." Those comments reflect people's kind and generous nature, particularly when it comes to needs in their own community.
That raises an interesting point. How else could crowdfunding be used to benefit local communities? People facing other disasters come immediately to mind. How could crowdfunding help a family whose home was hit by lightning, or a small business owner whose building was destroyed by fire, or a community center with a leaky roof?
Those are examples of how crowdfunding could help in a crisis, but how could it be put to use to improve your community? The possibilities here are endless, just look around you. Maybe a new park or bike path would make your neighborhood more desirable.  Or maybe an attractive streetscape with trees, benches and outdoor gathering spaces would get more people to frequent the businesses in your downtown. If you think those amenities would add zest to your community, chances are your neighbors are thinking the same thing. And they might just be willing to chip in to a crowdfunding campaign to get the project off the ground.
Madison Heights Campaign for Flood Victims Sparks More Crowdfunding Ideas