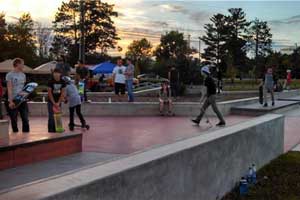 Marquette has an awesome downtown skatepark, but they'd like to make it even more awesome for the community. So the city has set out on a quest to raise additional funds through the Michigan Economic Development Corporation's Public Spaces Community Places crowdfunding program, developed in conjunction with the Michigan Municipal League and Patronicity.  They've set a goal of $10,000, and if they can raise that amount by Sept. 7, MEDC will match it dollar for dollar.
Marquette's state-of-the-art skate plaza became a reality because the city's youth spoke and the community listened. The young people wanted a place where they could practice all their skateboarding tricks and spins without getting chased off or ticketed. The kids themselves designed the skate plaza with all the urban elements they love, then the community worked together for eight long years to make that dream come true. After raising over $200,000 from individuals, corporations, foundations and the city – and with the help of hundreds of volunteers – the Marquette Area Skate Plaza officially opened on Sept. 28, 2013.
The plaza is busy every day and has become a place that's welcoming to skateboarders and the rest of the community as well. Marquette would like to make the space even more inviting by adding landscaping, benches, skate-able art and community recognition signage. If you'd like to get involved, check out their crowdfunding campaign on Patronicity.
Marquette Launches Crowdfunding Campaign for Awesome Skatepark