The newly created program, Public Spaces Community Places, is off to a successful start already – with it's first two projects reaching their "raise" amount and succeeding in getting the dollar for dollar matching grant from the Michigan Economic Development Association and three more active right now!  The first two projects included a Green Alley in Midtown Detroit (which raised over $50,000), and a Skate Park in Marquette (which raised over $10,000).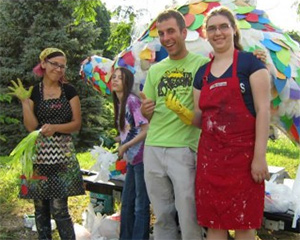 The enthusiasm for the program is growing as awareness spreads and people can see just how this public placemaking program works. Currently, three additional projects are crowdfunding under the program. Soaring toward their goal of $48,000 is the Lansing Expanding Our Reach project, which will raise money for the continued development of a public art program and redevelopment of some buildings in REO Town near downtown Lansing. The video explaining the project is a must see – narrated by two young art students.
Additionally – a campaign for a beautiful addition to the popular Kal-Haven trail is up and going. The Village of Bloomingdale is hoping to secure funds for a pavillion to connect the trail to the community and provide a public space for families and visitors. Check out their plans here! And, the most recent addition is the Detroit North Rosedale Park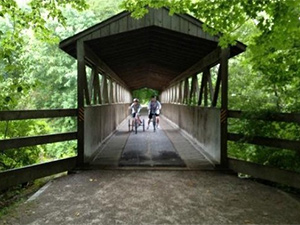 Community House. They are hoping to raise $20,000 to redevelop a building in the neighborhood to provide recreational and community activities for their residents.You can feel the sense of pride the organizers have for this in their video, which you can see here.
The Public Spaces Community Places program is a matching grant program developed by the MEDC in conjunction with the League and Patronicity, a company based in Detroit. It's goal is to help spur great public placemaking projects that can transform a block, neighborhood, downtown and an entire community. Utilizing crowdfunding as a means toward the matching grant is a way to instill excitement and ensure support for these projects. We're thrilled that the program is off to such a great start and hope many more great projects are announced soon. To lean more about the program you can click here.
Public Projects Succeeding in Public Spaces Community Places Crowdfunding Matching Grant Program